Our NEW Spring/Summer products have arrived!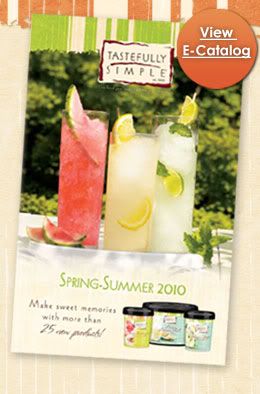 Click below to view:
Tastefully Simple Shop Our Products
I just know you'll love the delicious products in our NEW Spring-Summer Catalog - from fabulous freezer drinks like
JUICY WATERMELON™
MARGARITA MIX
to unique dips and grilling goodies such as
SMOKY BACON GRILL SAUCE
And if you'd like to be among the first to try them, I'd love to schedule a taste-testing party for you, your family and friends. By hosting a party, you could earn many of these products FREE!
I can't wait to hear from you!
Laura Thompson
Your Independent Tastefully Simple Consultant - #28048
Lothian, Md 20711
LauraLThompson8@hotmail.com
Shop online anytime at
www.tastefullysimple.com/web/lthompson1
P.S. Can't decide which ones to try first? Check out The Essential 4 Collection for the four basics that should be in every pantry.